"Trading Places" (1983)
iheartfilm is dedicating the month of November to the lesson of Gratitude in films; the quality of being thankful.
"Trading Places" (1983) is a tour de force example of Gratitude meets "walk a mile in my shoes!" Dan Aykroyd is (Louis Winthorpe III) the typical "privileged" ivy leaguer with a twist. He's not as "top drawer" as he thinks and his life is truly in the hands of the callous Duke brothers – Mortimer ((Don Ameche) and Randolph (Ralph Bellamy).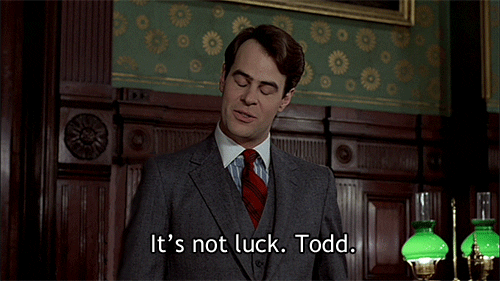 His perfect world is turned upside down by the $1 bet by the brothers to settle the debate of nature vs nurture. Because we've got nothing better to do, let's strip Louis of everything he knows and see if he'll sink or float.
What better "brother" switch than with (Billy Ray Valentine) Eddie Murphy, the wily con man who sees the brothers straight up for what they are – numbers runners.
The parable wouldn't be complete without the lovely damsel in distress (but in this case with a plan for her own escape). One of my favorite actresses, Jamie Lee Curtis plays "Ophelia", the classy hooker with a heart of gold.
Louis's butler/valet, "Coleman" (Denholm Elliott) is hilarious trying to juggle the Duke brothers' sick plan.
Louis's abrupt experiment in poverty forces him to get his nose out of the air and think twice about judging people based solely on their socio/economic situation.
After a stint in jail, being reduced to stuffing a whole salmon into his Santa suit (don't ask, you have to see) and attempting to take his own life, he realizes how shallow his life has been. By coming together with Billy Ray, Coleman and Ophelia he finds out it's friends and the love of a good woman that really counts.
An incredibly important life and Gratitude lesson!
However, if you can get rich with your friends and give payback to those who've done you wrong (Dukes) go for it! 😎
"Looking good Billy Ray!"