Original 1972 theatrical poster
Way to turn the classic "Dracula" on its' head! I think the idea to present Blacula as an 18th Century African prince during the slave trade was historical and topical. Although considered a Blaxploitation horror film, it was taken with a serious approach and hits the mark on the classic Universal horror flick.
This trailer is so typical of an American International Picture, high on exploitation and drama. Formed on April 2, 1954, from American Releasing Corporation (ARC) by James H. Nicholson, former Sales Manager of Realart Pictures, and Samuel Z. Arkoff, an entertainment lawyer. It was dedicated to releasing independently produced, low-budget films.
The ARKOFF formula:
Action (exciting, entertaining drama)

Revolution (novel or controversial themes and ideas)

Killing (a modicum of violence)

Oratory (notable dialogue and speeches)

Fantasy (acted-out fantasies common to the audience)

Fornication (sex appeal, for young adults)
The plot of Blacula is the story of Manuwalde (William Marshall), an African Prince. It's a modern twist on the classic Dracula legend and is told in a very compelling and chilling way.
In the year 1780, while on a goodwill visit to ask Count Dracula (Charles Macaulay) to help him suppress the slave trade, (which existed in parts of Africa, like the rest of the world, and was a part of the economic structure of some societies for many centuries), he is refused by the Count. Instead, Manuwalde is turned into a vampire by Count Dracula and wife, Luva (Vonetta McGee) is killed.
Quote – Dracula

: You shall pay, black prince. I shall place a curse of suffering on you that will doom you to a living hell. I curse you with my name. You shall be… Blacula!
The scene then shifts to the year 1972 with two interior decorators from modern-day Los Angeles California traveling to Castle Dracula in Transylvania and unknowingly purchasing the now-undead Mamuwalde's coffin, which they ship to Los Angeles.
Later unlocking the coffin, the decorators release Mamuwalde, becoming his first two victims, turning them and the others he encounters into vampires like himself in his bloodthirsty reign of terror. (Wikipedia)
Blacula was released on August 25, 1972, to mixed reviews.  American International Pictures' marketing department in an effort to ensure that black audiences would be interested in Blacula; created posters for the film including references to slavery, hence, blaxploitation.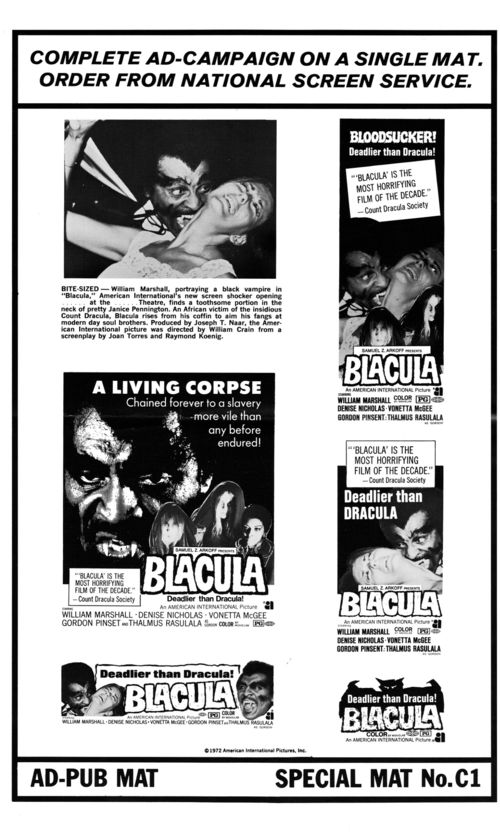 Noted for creating the Blaxploitation horror genre, Blacula debuted at #24 on Variety's list of top films. It eventually grossed over a million dollars, making it one of the highest-grossing films of 1972. A sequel to the film titled Scream Blacula Scream was released in 1973 by American International. The film also stars William Marshall in the title role along with actress and star of ("Foxy Brown" 1974) Pam Grier.
Trivia:
Blacula was in production between late January and late March 1972. While Blacula was in its production stages, William Marshall worked with the film producers to make sure his character had some dignity.
His character name was changed from Andrew Brown to Mamuwalde and his character received a background story about being an African prince who had succumbed to vampirism.
Blacula was shot on location in Los Angeles, with some scenes shot in the Watts neighborhood and the final scenes taken at the Hyperion Outfall Treatment Plant in the beachside, west Los Angeles Playa del Rey.
The music for Blacula is unlike that of most horror films as it uses rhythm and blues as opposed to haunting classical music. The film's soundtrack features a score by Gene Page, who was one of the most prolific arrangers/conductors of popular music during his time and worked on more than 200 gold and platinum records.
A variety of the artists Gene Page worked with:
Music on the soundtrack also included contributions by The Hues Corporation. They are best known for their 1974 single "Rock the Boat", which sold over 2 million copies. (Wikipedia)
In the spirit of Halloween and Throwback '70's, check it out. I think you'll "Dig it"!