I've always believed that we can't move on to the next level in our life's journey until we learn the lessons we need to understand. In "Groundhog Day", Bill Murray has the fortune or misfortune of repeating and repeating again a day which becomes his own private hell.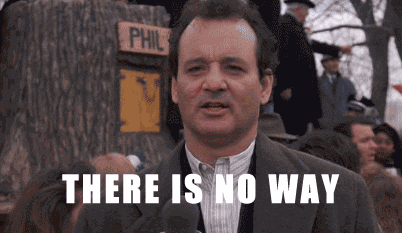 Groundhog Day (1993) is a hilarious look inside a day in the life of arrogant Pittsburgh TV weatherman Phil Connor (played by Bill Murray) who, during an assignment covering the annual Groundhog Day event in Punxsutawney, Pennsylvania, finds himself in a time loop, repeating the same day again and again.
This fantasy-comedy directed by Harold Ramis, stars Bill Murray, Andie MacDowell, and Chris Elliott. It was written by Ramis and Danny Rubin, based on a story by Rubin.
After indulging in hedonism and committing suicide numerous times, Phil begins to re-examine his life and priorities in his quest to end the tortuous nightmare of Groundhog's Day.
The film is often considered an allegory of self-improvement, emphasizing that happiness comes from placing the needs of others above one's own selfish desires; definitely, food for thought.
Doing my research I discovered that"Groundhog Day", as an expression, has become shorthand for the concept of spiritual transcendence. As such, the film has become a favorite of some Buddhists who see its themes of selflessness and rebirth as reflections of their own spiritual messages. (Wikipedia)
Once Phil decides to use his knowledge of the day's events to try to better himself and the lives of the townsfolks, over many loops, he learns how to play the piano, sculpt ice, and speak French. He even befriends the relentless, Ned Ryerson, and sets out to avert accidents and disastrous situations that otherwise would have occurred.
If you believe, you might see versions of reincarnation in the storyline and find great significance in the fact that Connors is saved only after he performs "good deeds" and is returned to earth, not heaven, to perform more.
Imagining German philosopher Nietzsche's directive to imagine life—metaphorically or literally—as an endless repetition of events is intriguing. I wonder how would this viewpoint shape our actions?
What would we choose to live out for all eternity?
Awards
British Comedy Awards 1993 (Comedy Film)

Saturn Award for Best Actress (Film) (Andie MacDowell)
In June 2008, AFI revealed its "Ten Top Ten"—the best ten films in ten "classic" American film genres—after polling over 1,500 people from the creative community. Groundhog Day was acknowledged as the eighth best film in the fantasy genre.
The film is recognized by American Film Institute in these lists:
AFI's 100 Years…100 Laughs – #34

AFI's 100 Years…100 Passions – Nominated

AFI's 100 Years…100 Movies (10th Anniversary Edition) – Nominated

As we journey into 2017, maybe we should take the events of "Groundhog Day" to heart and strive to be more loving and giving in the coming New Year.