Fathom Events and Lionsgate present a special two-day event, Dirty Dancing 30th Anniversary, in select cinemas nationwide.
Click here for tickets.
I still remember sitting in the theater with my heart beating with anticipation as I reminisced about a time and music that is a flashback to my childhood memories. From the first beat, I knew I was in for a rockin' good time.
Choreographed by Kenny Ortega, "Dirty Dancing"(1987) is a soulful coming of age tale of star-crossed lovers Baby (Jennifer Grey) and Johnny (Patrick Swayze). The film showcases an award-winning dance soundtrack that genuinely represents the spirit of the early 1960's.
Jennifer Grey and Patrick Swayze
Written by Eleanor Bergstein, and directed by Emile Ardolino, "Dirty Dancing" was originally a low-budget film by a new studio, Great American Films Limited Partnership, and with no major stars (except Broadway legend Jerry Orbach in a supporting role), "Dirty Dancing" became a massive box office hit. As of 2009, it has earned over $214 million worldwide. (Wikipedia)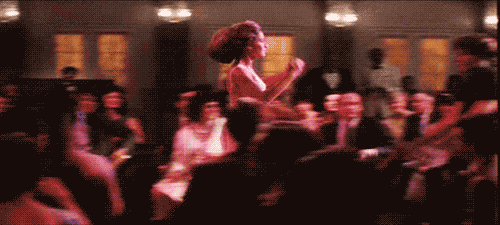 Dirty Dancing is based in large part on screenwriter Eleanor Bergstein's own childhood: she is the younger daughter of a Jewish doctor from New York, spent summers with her family in the Catskills, participated in "Dirty Dancing" competitions, and was herself nicknamed "Baby" as a girl. (Wikipedia)
Bergstein constructed the character of Johnny based on the stories of Michael Terrace, a dance instructor whom Bergstein met in the Catskills in 1985 while she was researching the story.
"Dirty Dancing" was the first film to sell more than a million copies on home video, and the Dirty Dancing soundtrack created by Jimmy Ienner generated two multi-platinum albums and multiple singles, including (I've Had) The Time of My Life", which won both the Golden Globe and Academy Award for Best Original Song, and a Grammy Award for best duet (Bill Medley and Jennifer Warnes) . (Wikipedia)
So, whether it's your first time or you're enjoying it all over again, make sure to make plans to see "Dirty Dancing" on the big screen and, have the time of your life!