IN THEATERS NOV 11th, NOV 14th
New York City Detective John McClane becomes the only hope for a small group of hostages, trapped in a Los Angeles high-rise office building when it is seized by terrorists on Christmas Eve. This 30th Anniversary event includes exclusive insight from Turner Classic Movies.
I have fond memories of the energy and excitement in the theater upon Die Hard's release and it has remained one of my favorite movies of all time. Although premiering on July 12th,1988, it's the perfect Christmas themed movie which our family always ends up watching during the Holidays.
The plot of the story takes place on Christmas Eve with NYPD detective John McClane (Bruce Willis) arriving in Los Angeles, intending to reconcile with his estranged wife, Holly (Bonnie Bedelia), at the Christmas party of her employer, the Nakatomi Corporation.
While McClane changes clothes at the festivities, the party is disrupted by the arrival of a German terrorist, Hans Gruber (Alan Rickman), and his heavily armed team: Karl, Tony, Franco, Theo, Alexander, Marco, Kristoff, Eddie, Uli, Heinrich, Fritz, and James. The group seizes the tower and secures those inside as hostages except for McClane, who slips away, and Argyle, (his limo driver) who gets trapped in the garage. (Wikipedia)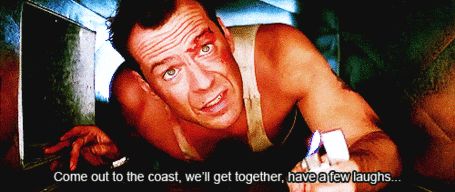 Let the games begin because McClane is a tough New York cop to his very core and is bound and determined to foil the terrorist takeover as captioned on the movie poster.
"Twelve terrorists. One cop. The odds are against John McClane…That's just the way he likes it."
This highly successful American action thriller was directed by John McTiernan and written by Steven E. de Souza and Jeb Stuart. It was produced by the Gordon Company and Silver Pictures and distributed by 20th Century Fox.
Made for $28 million, Die Hard grossed over $140 million theatrically worldwide, with the film turning Willis into an action star, and became a metonym for an action film in which a lone hero fights overwhelming odds. The film's success created the Die Hard franchise, which includes four sequels, a number of video games, and a comic book, and later in 2017 was selected for preservation in the United States National Film Registry. Die Hard has been named one of the best action and Christmas-themed films ever made. The film also ranks No. 20 on Empire
'

s 2017 list of the 100 greatest movies of all time. (Wikipedia)
I didn't really care for the sequels, but I highly recommend checking out the original on the big screen at this 30th Anniversary screening. Find out where it's showing in your area

here.