BACK IN THEATERS JUNE 11th and 14th
Experience one of Marilyn Monroe's most iconic roles as it was always meant to be seen.
Special commentary from TCM host Tiffany Vazquez.
With no money and nowhere to hide, two down on their luck jazz musicians (Tony Curtis and Jack Lemmon) masquerade as members of an all-girl band, leading to a number of romantic complications when one falls for the band's lead singer (Sugar Cane) played by Marilyn Monroe.
Some Like It Hot is a 1959 American romantic comedy film set in 1929, directed and produced by Billy Wilder, starring Marilyn Monroe, Tony Curtis, and Jack Lemmon. The supporting cast includes George Raft, Pat O'Brien, Joe E. Brown, Joan Shawlee, and Nehemiah Persoff.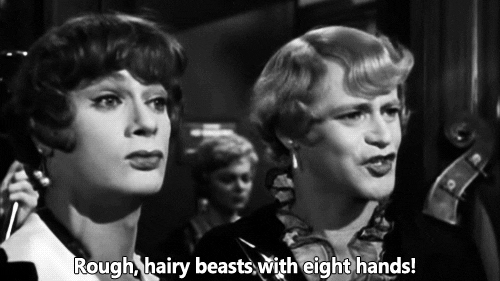 The plot is based on a screenplay by Billy Wilder and Michael Logan from the French film Fanfare of Love. The film is about two musicians who dress in drag in order to escape from mafia gangsters whom they witnessed commit a crime inspired by the Saint Valentine's Day Massacre. The film was produced in black and white, even though color films were increasing in popularity. (Wikipedia)
Some Like It Hot opened to largely positive reviews and is today considered to be one of the greatest film comedies of all time. It was voted as the top comedy film by the American Film Institute on their list on AFI's 100 Years… 100 Laughs poll in 2000. The film is also notable for featuring cross-dressing, and for playing with the idea of homosexuality, which led to it being produced without approval from the Motion Picture Production Code.
The code had been gradually weakening in its scope during the early 1950s, due to increasing social tolerance for previously taboo topics in film, but it was still officially enforced. The overwhelming success of Some Like It Hot was a final nail in the coffin for the Hays Code. (Wikipedia)
I love Billy Wilder because of his versatility in films and his testing the boundaries of societal norms. To that end, the first movie that always comes to mind is "Some Like it Hot". To find out more about Billy Wilder and his films, check out my post – The Faces Behind the Camera.
I highly recommend taking advantage of this opportunity to see "Some Like it Hot" on the big screen!
Get tickets here.