25th Anniversary
Sunday, August 21 and Wednesday, August 24
What do you get when you pair a bored housewife and a straight-laced waitress at a coffee shop who are best friends sick of what they've settled for in a moment of spontaneity deciding to escape the tedium of their everyday lives?
◊◊◊◊◊◊
Fathom Events, Metro-Goldwyn-Mayer, and Park Circus invite you to celebrate the 25th Anniversary of Thelma & Louise when it returns to select cinemas nationwide for a special two-day event on Sunday, August 21 and Wednesday, August 24 – 2:00 p.m. and 7:00 p.m. (local time)
Featuring a special introduction from film critic Ben Lyons talking about the legacy of Thelma & Louise and why, after 25 years, it is still considered the ultimate road trip movie.
Thelma & Louise is a 1991 American road film directed by Ridley Scott and written by Callie Khouri. It's a story about best friends taking control of their lives and accepting the consequences; changing the outcome of the two-day vacation intended to take a break from their dreary lives.
When you think about it, Thelma (Susan Sarandon) and Louise (Geena Davis) invented the selfie. Susan Sarandon explained she thought her character would be the type to keep a record of their travels, so she improvised the moment. And what about Brad Pitt? What a way to make a splash on the movie scene!
Although power hasn't really changed in Hollywood, Thelma and Louise was a very empowering female liberation film. I never give away endings but at the time I felt wow, finally a real kickass conclusion versus the candy coated type we usually get.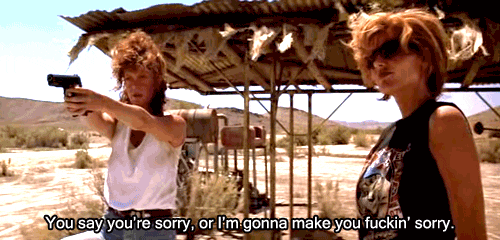 The film became a critical and commercial success, receiving six Academy Award nominations and winning one for Best Original Screenplay for Khouri. Scott was nominated for Best Director, and both Sarandon and Davis were nominated for Best Actress.
At its release, the movie stirred controversy. At the intersection of several genres, it is now considered a classic, influenced other films and artistic works, and became a landmark of feminist film. (Wikipedia)
It's a perfect movie for an ultimate girl's night out so grab your friends and don't miss seeing this classic on the big screen!